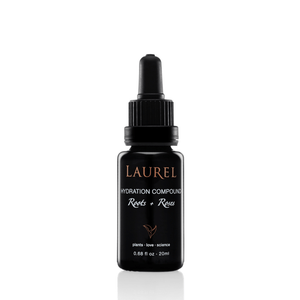 – Dry / Dehydrated
– 100% Whole Plant Organic
– 4 Beneficial Active Ingredients
– 20ml
We do not recommend our potent herbal Compounds for those who are brand new to Laurel Skin. Our Compounds are for those who celebrate the power of plants and prefer them over all other synthetic interventions.
Our Hydration Compound is a powerful boost of plant medicine for the skin, formulated to target dehydration, dryness, fine lines and a lack of firmness. This concentrated multi-layered infusion of Heirloom Rose Petals, Chia Seed Milk, alongside Roots of Marshmallow and Astragalus, is a bounty of phytonutrients such as anthocyanins, flavonoids, polysaccharides, B vitamins such as niacinamide, betaine and plant humectants that mimic hyaluronic acid. This unique product is our whole-plant alternative to synthetic lab-made hyaluronic acid and vitamin B cosmeceutical serums.
Our Compounds are created to compliment or add a boost to your Hydrating Elixir step. The Hydration Compound provides a deep and thorough hydration to those who need that extra support.
Our colorful Heirloom Roses provide antioxidant repair and protection, along with potent water and oil soluble nutrients for the skin. The delicate elasticity of Rose petals are what strengthen and firm our own connective tissue, as well as our lipid barrier, to prevent transepidermal water loss. Marshmallow Root is the shining star of the Hydration Compound, a super-hydrator that plumps up our skin the same way our own hyaluronic acid does. It has the ability to more deeply hydrate fascia with its unique combination of mineral and polysaccharide content. Astragalus, another notable Root, is present to soothe, unburden the skin, and repair chronic long-term free-radical damage. Last but not least, Chia Seed Milk provides an additional layer of dewy hydration as well as it being a rare plant source of Omega 3 fatty acids, protecting our lipid barrier from oxidation.