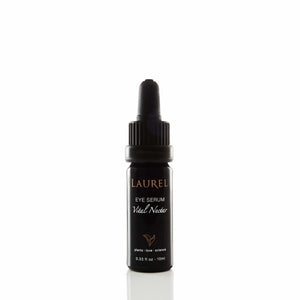 Laurel Eye Serum is a light regenerative moisturizer, formulated specifically to support the health of the delicate skin around our eyes. Potent, raw, whole plants are blended with great care to reduce inflammation, stagnation and puffiness around the eyes. These vibrant botanicals strengthen connective tissue, and reduce the appearance of fine lines and dark circles. This firming and soothing blend is abundant with antioxidants and nourishing phytonutrients. The primary difference between our Eye Serum and Eye Balm is in the texture: the Eye Serum is slightly lighter, and is sometimes preferred for morning use to de-puff around the eye and prep for makeup use.
All Skin Types
100% Whole Plant Organic
22 Beneficial Active Ingredients
Both the Eye Serum and the Eye Balm contain very similar plants that perform very similar actions. They both address inflammation, puffiness, fine lines, and dark circles. The only difference is textural. The Eye Balm has a much richer texture for those who need even more moisture.

Apply 1 drop to fingertip to share between both eyes. Apply to the under eye area and follow around the orbital bone. Avoid tear duct and lash lines. Apply to clean skin prior to primary moisturizer.

Use within 6 months of opening and within 18 months of the manufacture date found on the bottom of the bottle.
10 ml.
ALL INGREDIENTS Jojoba Oil˚, Rosehip Fruit + Seed Oil˚, Almond Oil˚, Evening Primrose Oil˚, Borage Seed Oil˚, Red Grape Seed Oil˚, Pomegranate Seed Oil˚, Cranberry Seed Oil˚, Red Raspberry Seed Oil˚, Rosemary Extract˚; House Made Whole Plant Extracts of Rosehips˚, Bilberry˚, Licorice˚, Calendula˚, Nettle˚, Fennel˚, Gotu Kola˚, Comfrey˚, Chamomile˚; Essential Oils of Rose˚, Roman Chamomile˚, Sandalwood˚
˚signifies certified organic ingredient