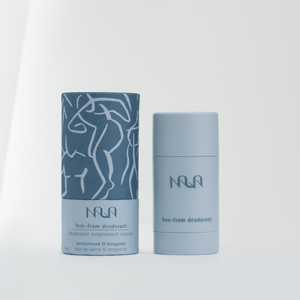 Sandalwood, the smoothest of all of the wood notes and reminiscent of freshly chopped wood meets sweet citrus hued bergamot for a healthy, refreshing and healing combination. Safe and free from toxins, this aluminum-free deodorant safely neutralizes underarm odor by using botanicals and scientifically validated ingredients of the highest quality.
Strength: Extra Strength
Nala's strongest formula. This base has the highest concentration of baking soda for days when your body and mind are asked to step up to life's demands.
Features:
One stick lasts on average 3-6 months with daily use

Over 90% Organic Ingredients

Nourishes, moisturizes, and repairs the underarm

Free-From Carcinogens

Free-From Aluminum

Free-From Cruelty

800+ Ingredients banned