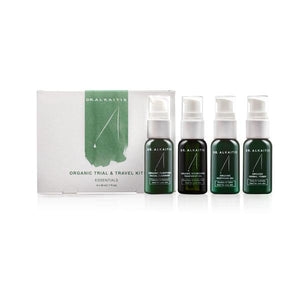 The Trial & Travel Kit Essentials features the four products from Dr. Alkaitis' meticulously formulated skin care line your skin just can't do without.
The Organic Trial & Travel Kit contains:
1 fl oz | 30 ml   Organic Purifying Facial Cleanser
1 fl oz | 30 ml   Organic Herbal Toner
1 fl oz | 30 ml   Organic Soothing Gel
1 fl oz | 30 ml   Organic Nourishing Treatment Oil
Supply lasts up to two weeks.
+ More Details
Organic Purifying Facial Cleanser is a mild and gentle cleanser, Organic Herbal Toner hydrates and balances, Soothing Gel effectively targets impurities and Organic Nourishing Treatment Oil deeply moisturizes and gives your skin that a healthy golden glow. 
All products work together to strengthen and balance your skin, & they can be blended for a customized regimen.
To create a lightweight serum, mix two drops of Herbal Toner with Nourishing Treatment Oil to create an organic serum that simply melts into your skin.
Blemishes? Blend Soothing Gel with Nourishing Treatment Oil to calm your skin while balancing oil production.
+ Ingredients 


ALL INGREDIENTS CLEANSER Dr. Alkaitis' Castile Cleansing Base (compounded from virgin, cold pressed olive*, shea*, jojoba*, coconut*, sesame*, castor* and borage* oils), the following ingredients are added: aloe vera gel*, Dr. Alkaitis' Herbal Skin Repair Complex (made up of chamomile*, plantain*, black elder*, greater nettle*, myrrhº, bitter orange*, rosemary*, marsh mallow*, benzoinº, marigold*, true lavender*, sea wrackº and atlantic seaweedº), vegetable glycerin*, citrus seed extract*, natural vitamin A and C complex, natural full spectrum vitamin E complex (D-alpha, beta, gamma, delta tocopherols) and a blend of 100% pure essential oils.
* certified organically grown - º ethically wild-crafted - ** naturally occurring from essential oils


ALL INGREDIENTS TONER Aloe Vera Gel*, Witch Hazel Distillate*, Greater Nettle*, Wild Chamomile*, Myrrh⁰, European Elder Blossoms*, Marsh Mallow*, French Lavender Flowers*, Curacao Orange*, Rosemary*, Wild Fennel*, Balm Mint*, Grapefruit*, Lemon*, Sea Oak⁰, Atlantic Kelp*, Pearl Moss⁰, Benzoin⁰, Natural Vitamin B Complex (Yerba Mate Extract*, Chlorella Extract*), Natural Vitamin C Complex (Camu Camu Extract, Acerola Extract*), Aroma (a blend of 100% Pure Essential Oils), Geraniol**, Limonene**, Linalool**
*certified organically grown - °ethically wildcrafted - **naturally occurring


ALL INGREDIENTS SOOTHING GEL Aloe Vera Gel*, Witch Hazel Distillate*, Greater Nettle*, German Chamomile*, Myrrh⁰, European Elder*, Sweet Weed*, French Lavender*, Curacao Orange*, Benzoin⁰, Rosemary*, Olibanum⁰, Italian Fennel*, Balm Mint*, Sea Oak⁰, Atlantic Kelp*, Red Seaweed⁰, Natural Vitamin B Complex (Yerba Mate Extract*, Chlorella Extract*), Natural Vitamin C Complex (Camu Camu Extract, Acerola Extract*), Aroma (a blend of 100% Pure Essential Oils), Geraniol**, Limonene**, Linalool** *certified organically grown - °ethically wildcrafted **naturally occurring


ALL INGREDIENTS TREATMENT OIL Jojoba Oil*, St. John's Wort Oil*, Andean Mountain Rose Hip Seed Oil*, Indian Madder*, Country Sarsaparilla*, Amazon Root*, Liquorice*, Country Mallow⁰, Turmeric*, China Root⁰, Costus⁰, White Sandalwood⁰, Cuscus Grass⁰, Olive*, Eagle Wood⁰, Nut Grass*, Bermuda Grass*, Ashwagandha*, Full Spectrum Natural Vitamin E Complex (D-alpha, beta, gamma, delta Tocopherols and Tocotrienols), Aroma (a blend of 100% Pure Essential Oils), Citral**, Citronellol**, Eugenol**, Farnesol**, Geraniol**, Limonene**, Linalool**
*certified organically grown - °ethically wildcrafted - **naturally occurring