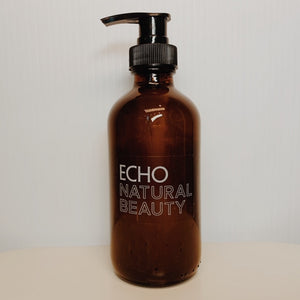 Our Organic Jojoba Oil is one of your body's best friends. This multi-purpose, all-season, all-skin-type healing oil is a not to be without 
+ More Details
Our clients (and we) LOVE this product. A luxurious body oil that one of our clients reported significantly diminished her stretch-marks when she used it consistently. A light multi-use oil with just a touch of a custom essential oil blend, it can be used all over the body, in the bath, in your hair, for oil-cleansing, and so many other uses. Jojoba oil is closest to our skin's own sebum and application of it helps keeps the protective barrier of your skin's acid-mantle balanced, healthy, and resilient, leaving your skin hydrated and soft.
*Bring your bottle back to refill it here at Echo for the discounted price of $25
4 ounces

+ Ingredients 
ALL INGREDIENTS Organic Jojoba Oil, a touch of essential oils of lavender, tangerine, frankincense, clove, and lemon.