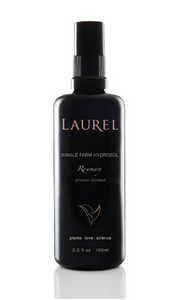 Our biodynamic Rosemary Hydrosol is both single-farm-grown and farmer-distilled. This particular farm is one that Laurel has worked with since our brand's inception over a decade ago.  That land is sacred and meaningful to all of us at Laurel Skin.
For the body, Rosemary is first and foremost a mover. It is a gentle stimulant to circulation, lymph, and fluids of all kinds.  Rosemary has an affinity for the heart and lungs. It helps clear phlegm, congestion, and stagnation to clear pathways all throughout the body. Rosemary is soothing to muscle tension and can reduce headaches.
For the skin, Rosemary is a healer. It encourages rejuvenation and repair through its antioxidant activity and movement. It is balancing to both oily and acneic skin, as well as dull skin that lacks radiance and vibrancy.
For the hair, Rosemary promotes healthy, shiny hair and it has long been used as a stimulant for thinning hair to restore fullness and strength.